About OPLC
Classes and Shops
Class Descriptions
Field Trips
Events
Faceters CD
Newsletter
Club History
Meetings
Join Us
FAQs
Bylaws
Contact Us
Directions to OPLC
Old Pueblo Lapidary Club Classes and Shop Sessions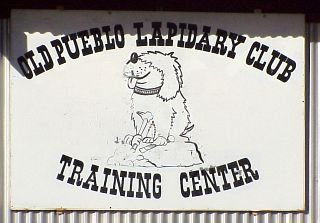 OPLC provides instructional classes and open shop sessions for its members. Class tuition and shop fees are charged to help defray equipment and facilities expenses. Time punch cards are available from class instructors/open shop monitors providing a discount to regular users of club equipment and facilities.
Any member in good standing can sign up for any class. OPLC classes are not open to non-members. However, anyone can join the club and take a class immediately, there is no waiting period. There are sign-up sheets on the bulletin board in the club house. To sign up for a class put your name and phone number on the sheet for the class(es) you want to take.
Classes are usually held whenever at least four people have signed up for a class and an instructor is available. The instructor determines the class size. All the classes are held on a prepaid basis. If paying by check the check should be made out to OPLC. Please indicate the class in the memo area on your check. Payment should be given or to the class instructor. They will give you a receipt for the payment.
If there's a subject you'd like to see taught, contact our class coordinator. Instructors are needed in order for classes to be taught. You don't need to be an expert to be an OPLC instructor. All that's needed is some knowledge about what you are teaching and a desire to help somebody else. If you are able to teach a class, please contact our class coordinator. We guarantee you'll have eager students and no discipline problems!
---
Lab Schedule:
NOTE: Lab Sessions are Re-Opened on a Limited Basis. This is the Covid Schedule for the Labs that are in force until further notice. Please CALL the Monitor that is running the lab to make sure that they will have a space for you. As people open up more workshops, additions will be made.
For updated schedule please check the Facebook page: Old Pueblo Lapidary Club Lab Monitors Group
Cabbing
Day
Time
Monitor
Phone
Notes
Monday
7am - 11am
Betty Mehloff
(253) 208-7460
6pm - 9pm
Donovan Wagner
(520) 869-2050
Tuesday
9am - 12pm
Dan Lilly
(801) 995-9692
12pm - 3pm
Liz Williams
(818) 300-5262
1st and 3rd Tuesday
1pm - 3:30pm
Liz Williams
(818) 300-5262
2nd and 4th Tuesday
3:30pm - 6pm
Margarette Harris
(520) 561-2315

Closed until October.

Wear a mask.
6pm - 9pm
Brian Peterson
(520) 449-2660
Text me instead of leaving voice mail.
Wednesday
5pm - 8pm
Keith Haubert
(520) 748-8283
Thursday
7am - 11am
Betty Mehloff
(253) 208-7460
1pm - 4pm
Wendy Huber
(206) 669-6002
Friday
No labs scheduled currently
Saturday
9:00am - 2pm
Victoria Fila
(520)-664-0302
1ST SATURDAY
~11:00am - 2pm
Victoria Fila
(520)-664-0302
2ND SATURDAY (after the monthly meeting)
9:00am - 2pm
Ron Bryan
(619) 495-7967
4TH SATURDAY
2pm - 5pm
Peter Moma
(907) 947-6768
Sunday
9am - 12pm
Gloria Shenanaquet
(520) 396-9715
12pm - 2pm
Paul Fickle
(520) 883-6061
Silversmithing
Day
Time
Monitor
Phone
Notes
Monday
10am - 1pm
Jane Morris
(727) 743-0883
Tuesday
9am - 12pm
John Poole
(520) 777-5588

No open shop August 22nd.

Wednesday
9am - 12pm
Bill Cascio
(520) 343-9927
10am - 4pm
Elizabeth Keller Boccardo
(520) 245-0923
6pm - 9pm
Bill Penrose
(520) 780-1143

ON HIATUS

Thursday
10am - 4pm
Sloane Padilla
(520) 808-8699
(TEXT ONLY); CALL FIRST.
Friday
10am - 3pm
Giac D'Acquisto
(520) 444-4143
Saturday
9am - 12pm
David Schulte
(520) 945-8554
Sunday
10am - 3pm
Giac D'Acquisto
(520) 444-4143
Faceting
Day
Time
Monitor
Phone
Notes
Monday
9am - 12pm
Dave Richardson
(520) 245-2172
Class and open lab
Wednesday
5:30pm - 8:30pm
David Schulte
(520) 945-8554
Open lab
Thursday
4:00pm - 7:00pm
Chuck Lundstrom
(520) 241-9262
Class
Sunday
12:30pm - 3:30pm
Dave Richardson
(520) 245-2172
Class and open lab
Casting
Day
Time
Monitor
Phone
Notes
Tuesday
9am - 12pm
Liz Williams
(818) 300-5262
Please call or text to let me know you're coming.
Wednesday
4pm - 7pm
Chuck Lundstrom
(520) 241-9262
Punch Card Instruction
Saw Room
Day
Time
Monitor
Phone
Notes
Sunday
9 - Noon
Mike Tucker
(520) 400-9658
Tuesday
9am - 12pm
Betty Mehlhoff
(253) 208-7460
Thursday
9 - Noon
Pete Peterson
(520) 886-9021
For cutting procedures call Mark Gibson (520)-297-4412 or Pete Peterson (520)-886-9021
For updated schedule please check the Facebook page: Old Pueblo Lapidary Club Lab Monitors Group